R.V.E.T.S
Returning Veterans; Enlisting Their Skills for CAL FIRE Service
---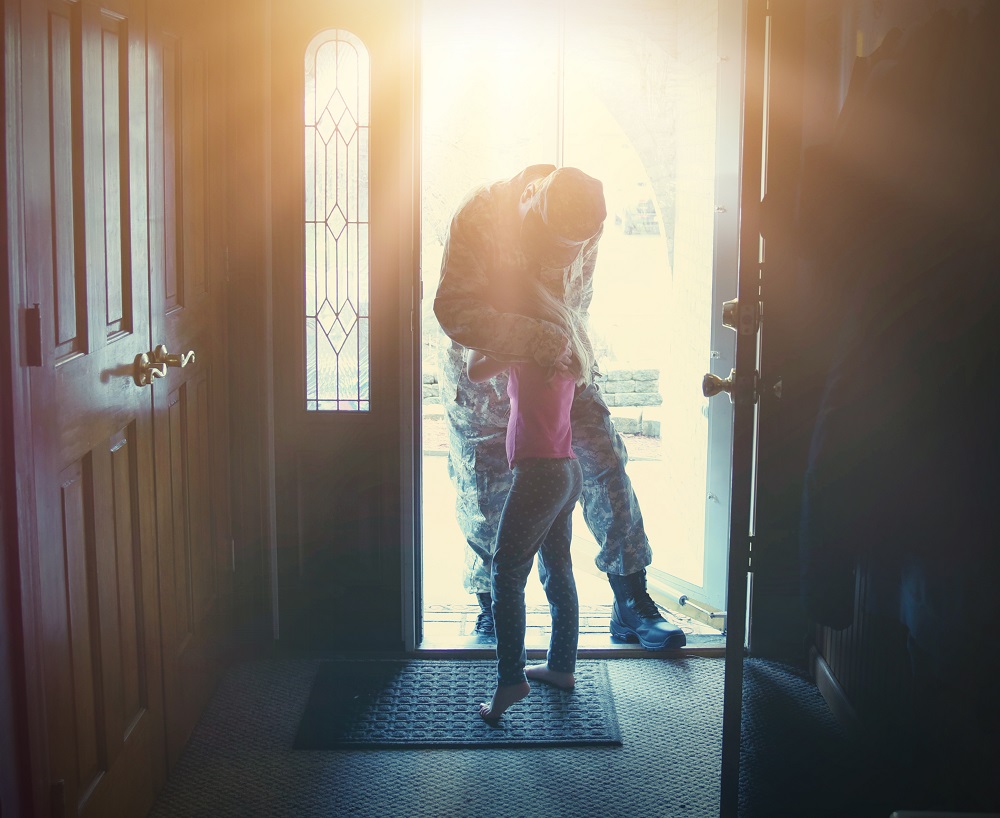 From the CAL FIRE family to veterans, active service members and their families, "Thank you for your service and sacrifice."
Recognizing the hardships, accompanying reintegration into the civilian workforce, as well as the valuable skills and experiences those who are serving, who have served, and those who have supported someone in the service possess, the California Department of Forestry and Fire Protection (CAL FIRE) has launched the R.V.E.T.S. program. R.V.E.T.S. is CAL FIRE's grassroots effort to assist veterans, service members, and their families with integration and transition into service with the Department and the State of California. In partnership with a variety of organizations including; but not limited to, the California Department of Veterans Affairs (CalVet), the California National Guard (Cal Guard), the Employment Development Department, and various branches of the military, R.V.E.T.S. explores a variety of employment options and educational opportunities for veterans who have successfully served as well as those who continue to serve in the National Guard and Reserves.
For those who are not familiar with the State's civil service system, obtaining employment with the State of California can seem daunting at times. This page is designed as a resource for Veterans, active service members, and their families by providing a broad overview of the civil service process and providing links to various informational websites. For detailed information on the civil service process above and beyond what is provided below, please visit the California Department of Human Resources (CalHR).
Your experiences may have already prepared you for a career in a specific occupational area, or you may be considering a different career altogether. Research, including a self-assessment, is essential in any career planning. A self-assessment evaluates your strengths/weaknesses, successes/failings, and likes/dislikes in order to assist you in matching yourself to a certain occupational area.
The California Employment Development Department (EDD) has a webpage titled Self-Assessment for Career Exploration with links to a variety of career planning tools. EDD also provides veterans readily available job and training information as well as a veterans resource page.
When performing a self-assessment, you will need to analyze the military skills you have acquired or continue to acquire through service. There are a variety of online military skill translators to assist you in transcribing those specific skills into applicable civilian work experience. The United States Department of Veterans Affairs (VA) hosts a webpage that houses several easy to use military skills translators. Although State of California civil service classifications may not be loaded into many of these databases, the data obtained should still prove useful in your career planning efforts (e.g., taking the results and using them for help in resume writing and/or interview preparation).
The Occupational Information Network (O*NET) program, sponsored by the United States Department of Labor (DOL), is considered the nation's primary source of occupational information. The O*NET Resource Center can assist in finding an occupational area you may be interested in pursuing, as it allows you to view over 900 different careers.
The DOL has also launched "My Next Move for Veterans," an online resource that allows veterans to enter their military occupation code and discover civilian occupations for which they are well qualified. Additionally, DOL provides career planning information for eterans. throughout its website and links to the Veteran Gold Card.
This is great, but you want to work for CAL FIRE. Familiarizing yourself with the translation of your skills to "civilian speak" will assist you in the various phases of the employment process from application/resume writing to interviewing.
Once you have narrowed down your selection to "general" occupational areas you are interested in pursuing, you will want to familiarize yourself with the State's civil service system. Occupational groups are captured in the class specification (job description). A class specification identifies the civil service classification, typical tasks, minimum qualifications, knowledge, skills, and abilities (KSAs), and other useful information regarding the job. The CalHR database for job descriptions asks users to input a class code or class title (classification name) for a description; however, if you are unfamiliar with specific class codes or class titles, you can enter a partial name or keyword. For example, if you are looking for various civil service classifications in firefighting, type the word "fire" in the class title field and the database will pull up several related class specifications. For a listing of all civil service classifications used at CAL FIRE, click here.
While the class specification proves useful for identifying information specific to the job, it does not provide pay information. Information on pay can be found in the alphabetical listing by classification name on the CalHR website under pay scales.
The State of California utilizes what is referred to as a merit-based civil service selection system. The basic premise of the State's merit system requires that individuals hired into and promoted within the civil service be selected on the basis of their job-related qualifications and that such selection decisions be free of illegal discrimination and political patronage. The California State Personnel Board (SPB) is charged with oversight of this system.
The selection process must be designed to assess the KSAs associated with the civil service classification required for successful performance in the job.
The civil service selection process, as a whole, is made up of a number of stages including recruitment (advertising), assessing or measuring candidate qualifications (selection), choosing of the candidate to be appointed (hiring), and the employee's successful completion of any required probationary period.
After you have determined the civil service classification(s) you are interested in, in most instances, you will want to:
Take an examination – to establish eligibility review the class specification and examination bulletin for details on the examination, the type of examination, and the minimum qualifications required to compete in the examination (see additional information for veterans located below). Once you have done this, take and successfully pass the examination to get placed on an eligible list.
Once eligibility has been established, search and apply for job vacancies.
NOTE: Eligible veterans qualify for preference in examinations and have the ability to take promotional examinations. For specific examination information for veterans, please visit the CalHR website at https://jobs.ca.gov/CalHRPublic/Landing/Jobs/VeteransInformation.aspx.
To see what examinations CAL FIRE is currently offering; bookmark and periodically visit: http://www.fire.ca.gov/about/about_careers_exams.php.
For other civil service examinations, visit the CalHR website:
Once eligibility has been established, search and apply for job vacancies. Current job vacancies are located on CalHR's Website at (job.ca.gov). Veterans may also want to access this information through the veterans landing page. These pages host all civil service job openings, including those for CAL FIRE. Using the advanced job search tool, select "Department of Forestry & Fire Protection" from the drop down menu for job openings specific to CAL FIRE.
CAL FIRE advertises open periods for its seasonal classifications throughout its career pages.
CAL FIRE is an all hazard organization, employing approximately 170+ different civil service classifications and 13 bargaining units spanning many occupational areas. CAL FIRE has careers in administration, aviation, information technology, fire protection, resource management, etc. CAL FIRE's Office of the State Fire Marshal employs Arson and Bomb Investigators (Class Code 8997), Pipeline Safety Engineers (Class Code 2278), Deputy State Fire Marshals (Class Code 9086), and more.
CAL FIRE also utilizes temporary, non-testing civil service classifications for much of its seasonal workforce in fire protection and resource management.
Fire Fighter I (FF I) (Class Code 1083) – As a member of a fire crew, a FF I receives training in wildland, rural, and structural fire suppression methods and techniques; fights fire as a member of a fire crew using tools and equipment such as a shovel, axe, McLeod, Pulaski, and back pump; clears trails and cuts brush; assists in building, grounds, and equipment maintenance and repair; inspects, cleans and repairs fire hose and equipment, sharpens fire tools, paints equipment and buildings and performs semiskilled or laboring construction work; performs general station house- keeping and kitchen duties.
For more FFI information, please visit the CAL FIRE Careers page.
Forestry Aide (Class Code 1060) – In the fields of forestry, fire prevention, or natural resource management, a Forestry Aide provides subprofessional assistance. Examples of work tasks include, but are not limited to, one or more of the following: timber marking, cruising, pest control, forest engineering, establishing and measuring sample plots, remote sensing, geographic information systems processing and analysis, resource surveys, nursery operations, seed processing and storage, State Demonstration Forest operations, forestry assistance, urban forestry programs, and/or directing work crews. May perform or assist in such assignments as fire prevention patrol and inspections, Emergency Command Center/Operations Center call taker, incident base support, and other emergency related assignments (e.g., fire suppression and control).
For more Forestry Aide information, please visit the Careers page.
Both the FF I and Forestry Aide civil service classifications are non-testing temporary classification used by CAL FIRE. Unlike other civil service classifications, these do not require a civil service examination.
The State of California offers a Limited Examination and Appointment Program (LEAP) for qualified members, although not specific for veterans. LEAP is an alternate selection process designed to facilitate the recruitment and hiring of persons with disabilities. LEAP also provides applicants with an alternative way to demonstrate their qualifications for employment rather than the traditional State civil service examination process. For frequently asked questions regarding LEAP or to view a listing of LEAP examinations, please visit jobs.ca.gov.
The State of California also acknowledges the service and sacrifice of its disabled veterans, in part, through the Disabled Veteran Business Enterprise (DVBE) Participation Program. With the DVBE Program, State agencies have goals toward awarding a portion of their annual contract dollars to certified DVBEs. DVBE certification is obtained through the California Department of General Services.
Please find below the resources from the virtual California National Guard Crews presentation.
November 2020
November 2021
Please find below the resources from the virtual career workshops:
October 2021
Join us and the many others in creating public awareness on veteran suicide and how to prevent it. In a crisis, your actions could help save a life – be aware, get involved, seek help.
The 22 push-up challenge is just one way in which awareness on veteran suicide and prevention can be shared. Many organizations, governmental programs, and local community efforts are rallying behind the same objectives – create awareness, educate on suicide prevention, and provide support for veterans and their families.
In 2012, the U.S. Department of Veterans Affairs (VA) published its Suicide Data Report revealing an average of 22 veterans are killed by suicide every day – the numbers have changed. According to another VA report (i.e., Suicide Among Veterans and Other Americans 2001-2014), the number has decreased to approximately 20 a day – while a slight improvement, even one is still too many.
The Warning Signs
It is important to note that individuals handle situations differently and those closest may be the first to recognize distress. These individuals can also provide needed support during crisis.
The VA and the California Department of Veterans Affairs (CalVet) combined, provide the following warning signs to look for including those that may require immediate attention (bolded below):
Thinking about or threatening to hurt or kill oneself
Looking for ways to kill oneself
Talking or writing about death, dying, or suicide
Self-destructive behavior such as drug abuse, weapons, etc.
Hopelessness, feeling like there is no way out, trapped
Anxiety, agitation, sleeplessness, sleeping too much, or mood swings
Feeling like there is no reason to live, no sense of purpose in life
Rage, anger, or the need to seek revenge
Engaging in risky activities without thinking, being reckless
Increasing alcohol or drug abuse
Withdrawing from family, friends, and society
Getting Help
If you are a veteran or know someone who is experiencing any of the warning signs, one resource is the VA's Veterans Crisis Line available 24/7 at 1-800-273-8255 (Press 1). Staffed with responders who are specially trained and experienced, this resource connects those in need with confidential, round-the-clock support. However, if a suicide attempt seems imminent, call a local crisis center, dial 911, or take the person to an emergency room. Do not leave them alone.
Veterans and their families are not the only ones at risk. The National Fallen Firefighters Foundationnotes it is estimated that suicide is three times more likely to happen in a fire department than a line of duty death. Although research is limited, emerging evidence suggests that repeated exposure to trauma by firefighters, emergency services personnel, and law enforcement personnel put them at increased risk. Some may consider talking to peers; however, others may remain silent. Remember that those closest are likely to observe changes in behavior – the same warning signs apply. A nationally recognized resource available 24/7 is the National Suicide Prevention Lifeline at 1-800-273-8255. This lifeline provides free and confidential support to all.
CAL FIRE employees, regardless of veteran status, have access to the Department's Employee Support Services (ESS) program. ESS provides support for the emotional well-being and mental health of employees and their families, especially during times of crisis or loss. An ESS Employee Help Line (916-445-4337) is available Monday beginning at 8:00 a.m. through Friday ending at 9:00 p.m. and every weekend from 9:00 a.m. to 9:00 p.m.
The State of California also provides a variety of resources to its employees and eligible dependents regardless of veteran status through its Employee Assistance Program (EAP). EAP is an assessment, short-term counseling, and referral service designed to aid in managing everyday concerns. Licensed crisis clinicians can always be reached 24/7 at 1-866-327-4762. If experiencing difficulties with EAP services, please feel free to contact ESS directly for additional assistance.
Prevention
Prevention starts with recognizing that a problem is escalating and/or that risk factors are building (e.g., frequent deployments, injury, length of deployment). By seeking help or getting involved ahead of time, crisis may be mitigated or avoided. Success factors for prevention involve seeking professional assistance despite negative stigmas associated with behavioral health and wellness. It is not too soon to develop healthy coping strategies and to take advantage of available resources.
For more information on veteran suicide prevention, please visit CalVet's Suicide Prevention page. Resources include, but are not limited to, factors that help prevent suicide, myths and realities about suicide, and more.
The Veterans Crisis Line connects veterans and their families with qualified and caring responders, from the United States Department of Veterans Affairs, through a confidential toll-free hotline, online chat, or text feature. Veterans and their loved ones can call 1-800-273-8255 and Press 1, chat online, or send a text message to 838255, to receive confidential support 24 hours a day, 7 days a week, and 365 days a year.
Also available, although not exclusive to veterans and their families, State of California employees can contact the Employee Assistance Program (EAP) provided via a State contract with Magellan Healthcare. EAP is confidential and provides a specific number of free counseling sessions to employees and family members on a variety of topics. Magellan has thousands of qualified counselors available statewide and can be contacted 24 hours a day, 7 days a week, and 365 days a year at 1-866-EAP-4SOC (866-327-4762), or TDD 1-800-327-0801 for immediate crisis support.
If you have additional questions, please feel free to contact the
R.V.E.T.S. Hotline
at
916-327-3985
.