Tribal Wildfire Resilience Grants
---
Tribal Wildfire Resilience grants is part of CAL FIRE's Climate and Energy Program and supports California Native American tribes in managing ancestral lands, implementing and promoting Traditional Environmental Knowledges in wildfire resilience, and establishing wildfire safety for tribal communities.
Tribal Wildfire Resilience grants fund planning and implementation projects that serve California Native American Tribes and advance wildfire resilience, forest health, and cultural use of fire. These projects address critical needs in tribal communities, and may include:
Cultural and prescribed burns
Creation and maintenance of shaded fuel breaks
Forest and wildfire resilience projects such as dead and dying tree removal, understory thinning and/or removal, tree or other native and/or traditional vegetation plantings
Forest health projects that provide benefits such as increasing biodiversity and improving access to and use of traditional foods and culturally significant species
Workforce Development and training programs in fire, forestry, and related Traditional Ecological Knowledges
Mapping projects
Development of restoration plans, fire or forest management plans
Biological and cultural surveys
Environmental compliance and permitting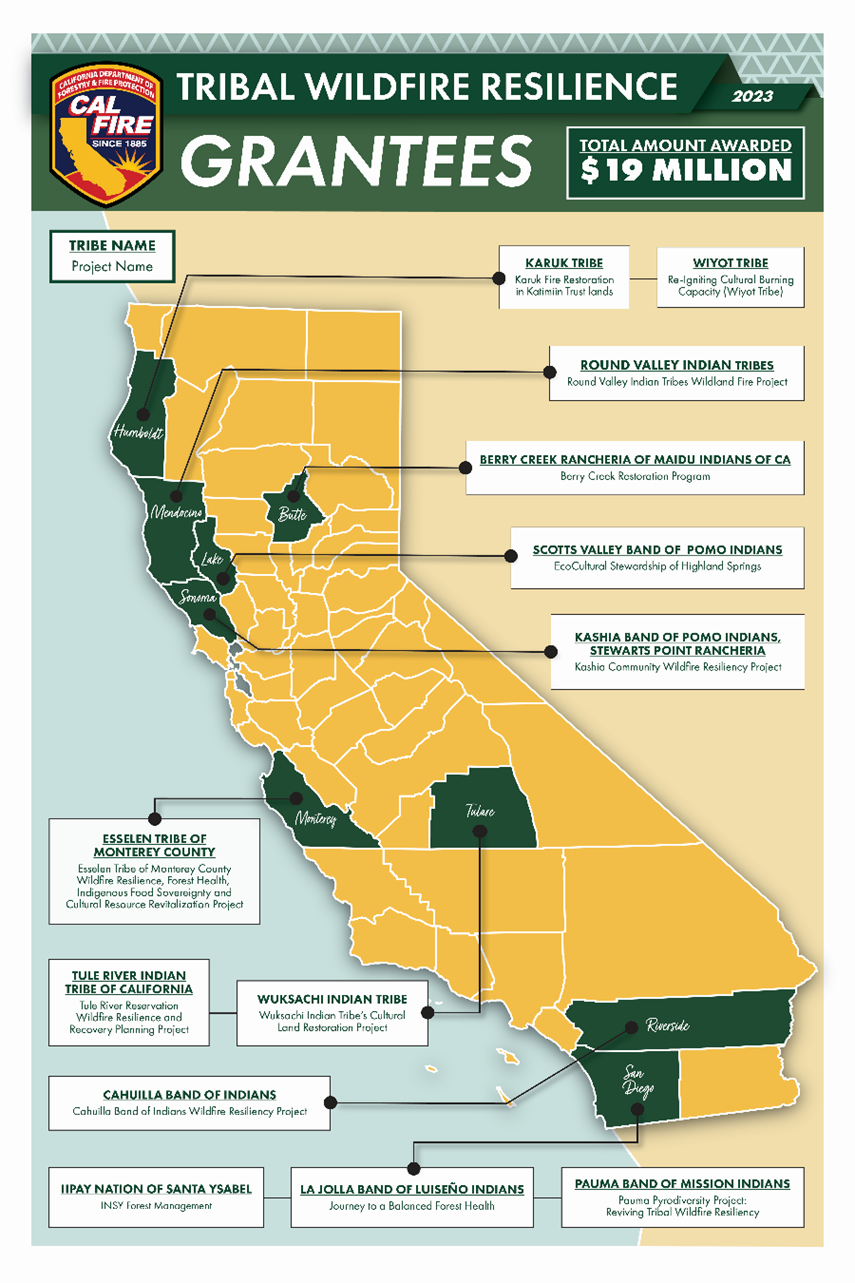 Applications are currently closed.
We expect the next solicitation for applications will open in Winter 2023-2024.
We expect that there will be $10 million total available for all grants in Winter 2023-2024, followed by $10 million available in Winter 2024-2025.
Tribal Wildfire Resilience grant proposals must be between $250,000 and $5,000,000. Proposals can include planning, implementation, and workforce development/training.
Projects must serve California Native American tribes and their communities located within the State of California.
Projects must establish and/or improve wildfire resilience and/or forest health on tribal ancestral lands or prepare tribes to develop and/or increase wildfire resilience and/or forest health through planning activities.
Federally recognized Native American tribes
Non-federally recognized California Native American tribes listed on the California Tribal Contact List maintained by the Native American Heritage Commission as described in Section 65352.4 of the Government Code.
Tribal Wildfire Resilience Team held Virtual Roundtable Workshops to discuss
CAL FIRE's Tribal Wildfire Resilience Grants Program in December 2022.
Roundtable Workshop Recording